Just wrapped shooting a Coldwell Banker Promotional Video with Shamrock Communications in Wilmington, North Carolina. One of the video's subjects is Jessica Riffle Edwards. She is a successful video blogging realtor who blogs from her car. For one of out shots, I shot her while she blogged. The coolest part is that she put me in her blog.
You can see me around 0:30. I'm using a 7D with the super wide Tokina 11-16 f/2.8 on a Redrock Micro rig with a Zacuto Z-finder. The wide lens makes for a great handheld combo because pulling focus and operating is really easy in the 11-16mm range. 16mm is also a perfect field of view on the 7D for car shots. In the past I've used a 5dmkII and a 24mm lens for car interiors. We need to move fast on this gig, so I left my primes behind and traveled only with zooms. The Canon 24-70 lens that I own stuck out a little too far for Jessica's car. I switched cameras otherwise, the lens would have been right in her face.
We shot the entire video with a Canon 5DmkII, Canon 7D, and a Sony PMW-EX3. I used 3 lenses which have become my essential HD-DSLR kit lenses. They were a Canon 24-70 f/2.8L, Canon 70-200 f/2.8L IS, and a Tokina 11-16 f/2.8. We also used my homemade slider dolly, and a Kessler Pocket Jib. Hopefully, I can post the final product when the edit is complete.
Thanks Jessica!
Check out her blog:
Here are some production stills taken by David Siroty.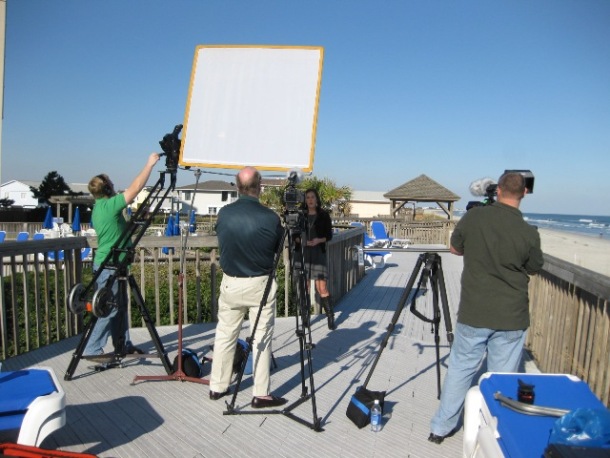 Interview in Wrightsville Beach with the EX3 on the Pocket Jib, 5DmkII with a 70-200 f/2.8L IS, and on the slider is a 7D with a 24-70 f/2.8L.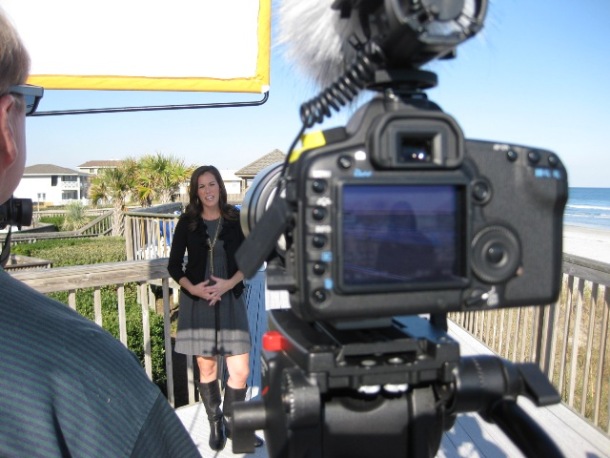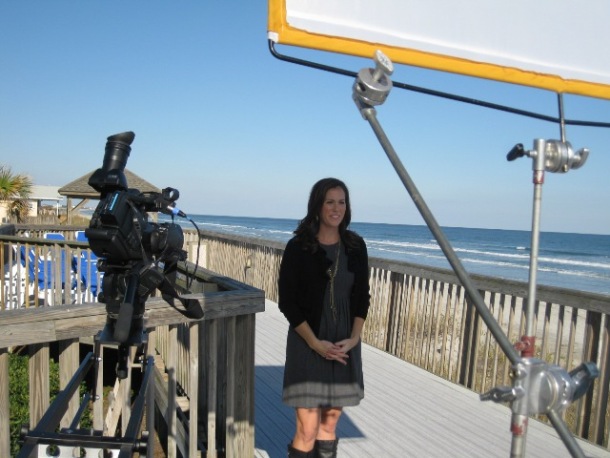 For driving shots, I used a 7D with a Tokina 11-16 f/2.8. I'm really loving this lens. It's quickly becoming a favorite.